Many people embrace jewelry trends that change every year. They follow the trend to accessorize their clothes and makeup. However, fashion trends alter so rapidly that you cannot always keep up with them. So you need to know more about the latest trend and choose the jewelry that fits you most.
Necklace & Chain
Source: pixabay
Necklaces and chains will be a big trend in the fashion world in 2022. There are a lot of trendy necklaces and chains to choose from. This season, the principle of "more is more" is going to replace "less is more" or "big is better". Moreover, fashion trend is always a big circle, which means that lots of trendy jewelry and accessories in the past will have a resurgence today. Jewelry has a longer life cycle than clothes or bags, so some nostalgic styles of jewelry coming back is not surprising and this would be the second tendency of your accessory.
The first big trend in jewels is pendant necklaces. In the winter of 2022, if you wear a statement pendant necklace on a turtleneck, you are definitely rocking the trend. The pendant necklace is all the rage in the 90s. Now it has a huge comeback. It is easy and fun to style pendant necklaces. Necklaces are timeless and special for the vintage nature of pendant necklaces with crystals and gemstones. Crystals and gems are trendy now, so pairing a pendant necklace with your outfit perfectly integrates two trends. To layer pendant necklaces, the first step is to choose one piece as a starting point. Other statement pieces will be its complements. You can choose from different colors, lengths, and textures.
Given the inspiration of accessories in the 70s, vintage-style jewels are gaining popularity. Necklaces featuring beads with special sizes and colors or featured by the disco era are welcomed this winter and spring. The chunky gold chain is also one of the statement pieces in 2022. You can wear a big and bold gold chain alone or layer one with other metal necklaces.
Necklaces and chains are not only timeless and trend-driven but also can recall wearers' sensibilities. You can get inspiration from the above trendy jewels and get your own custom jewelry services that can fulfill your creative ideas and requirements.
Sterling Silver Body Chain with Gemstone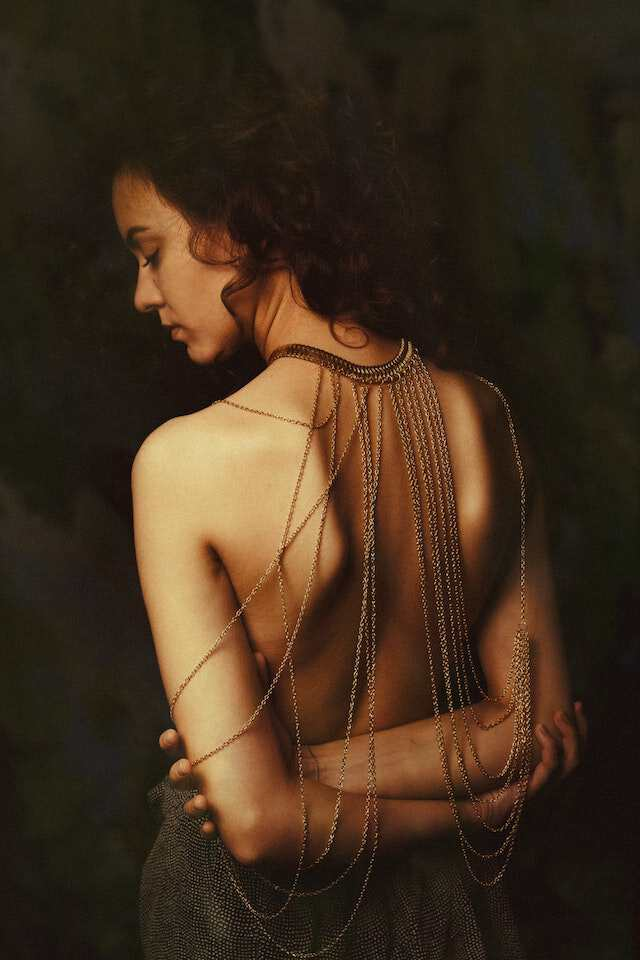 Source: pexels
The body chain has a long history. It was in vogue in the 70s and 00s. Many celebrities such as Beyonce and Paris Hilton rocked the trend. Body chains are usually decorated in summer, but they can be matched with figure-hugging clothes such as jumpsuits and bodycon this winter and spring. In summer, body chains are used for a crop top to emphasize your belly or a backless dress to accentuate your back. While in winter, you can put body chains on a tight turtleneck dress to top a simple look off.
Body chains first appeared in the fashion scene with jumpsuits and swimsuits, so they were associated with sexiness. Now they are becoming more and more popular and are getting normal in various situations, such as night engagements, events, and golf equipment. They are suitable for any outfit thanks to their versatility and beauty. They can be paired with many types of clothing to add a pop of glitter and bling. Body chains can be used by anyone of any age if they are properly styled.
A body chain is an accessory worn on your body. It does not have specific body parts to wear like necklaces, bracelets, or rings. It can be worn on any part of the body. Body chains have various lengths, shapes, styles, and designs; therefore, you will look stunning if you wear them properly based on your body shape. A body chain can be made of different materials. Many body chains are made of sterling silver and decorated with gemstones. You can also customize your own body chain with your jewels with the help of jewelry manufacturers. They can offer robust manufacturing abilities and fine craftsmanship. Here are some types of body chains that you can choose from.
Bra Style Chain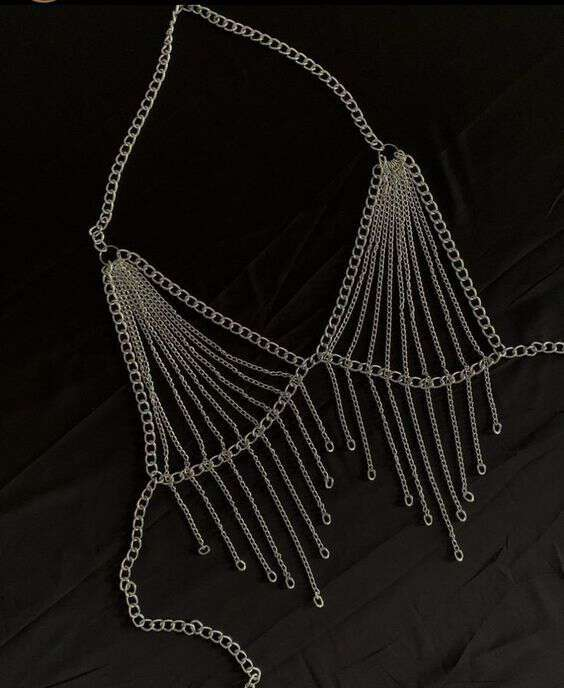 Source: pinterest
The bra-style body chain can be seen as the most common style of all body chains. It is popular because of its cleverness and its origin in the former lingerie pieces. It can fill in the clothes with a deep decolletage or a wide neck. The chain is often dainty and shiny. Its name matches the reality for its style is similar to the shape of a bra. Bra style chain is a good choice for a high-fashion look.
Due to different chain designs, body chains can be worn under or over clothes. You can wear a bra-style chain under a wide-necked shirt or a blazer jacket to add a distinctive flavor, but you can also wear a chain over a T-shirt to make it casual and special. Make sure your T-shirt has a simple design and pattern so that your dressing is not dazzling.
Drapey and Delicate Body Chain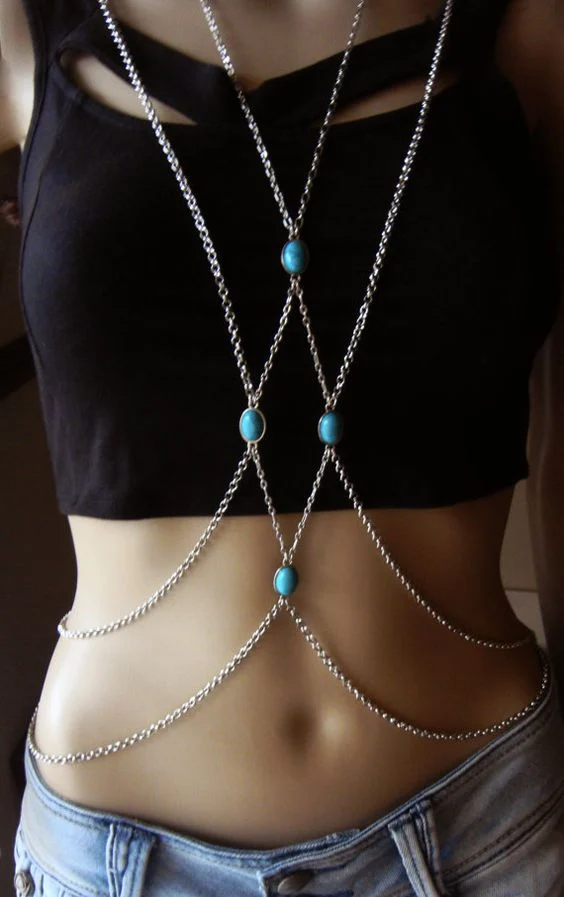 Source: pinterest
The drapey and delicate body chain has a simple but exquisite and refined style. The chains always go around the upper body to emphasize the body shape.
It boasts different matching styles. It fits in with shorts and jeans due to its classic chain styling. It also looks great with dresses because of its simple design. In other words, this kind of body chain can blend well with almost all styles of clothing. However, drapey and delicate body chains only stand out over a black-color outfit, so you need to avoid patterned or floral clothes. To wear body chains, you need to consider whether the silhouette of your body and clothing blends well with the body chain style.
Sparkly and Elegant Body Chain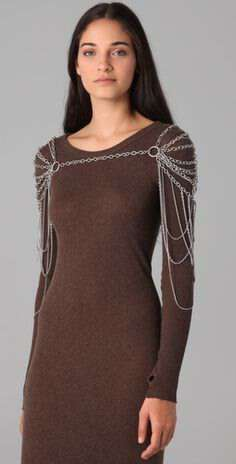 Source: pinterest
Sparkly and elegant body chains are elegant and drapey, usually well made with strings of pearls. Most of these body chains are designed in shoulder design. They look beautiful from the front and back.
These versatile chains are suitable for everyday dressing and specific occasions. They can match jeans well to make your ordinary clothes attractive. Besides, their dramatic chain style can pair well with gowns, fancy dresses, and black tie looks. It is better to have well-fitting outfits no matter whether the chains are worn over clothes or bare skin to ensure a good silhouette and an edgy look. Furthermore, it is a good way to drag others' attention away from the clothes or any other parts that you don't want others to focus on.
Dramatic and Gothic Body Chain
Like sparkly and elegant body chains, dramatic and gothic body chains are eye-catching at the front and back. This chain is integrated with simple chains and rings.
The most wonderful part of the dramatic and gothic body chain is the shape of the human spine at the back, which means this kind of chain is an ideal option for open-back dresses, shirts, and catsuits. The perfect combination of shape and chain makes the dramatic and gothic body chains out of ordinary. Even though you may not fall over yourself for alt or punk, you can still get an elegant and attractive dressing with this chain.
Ring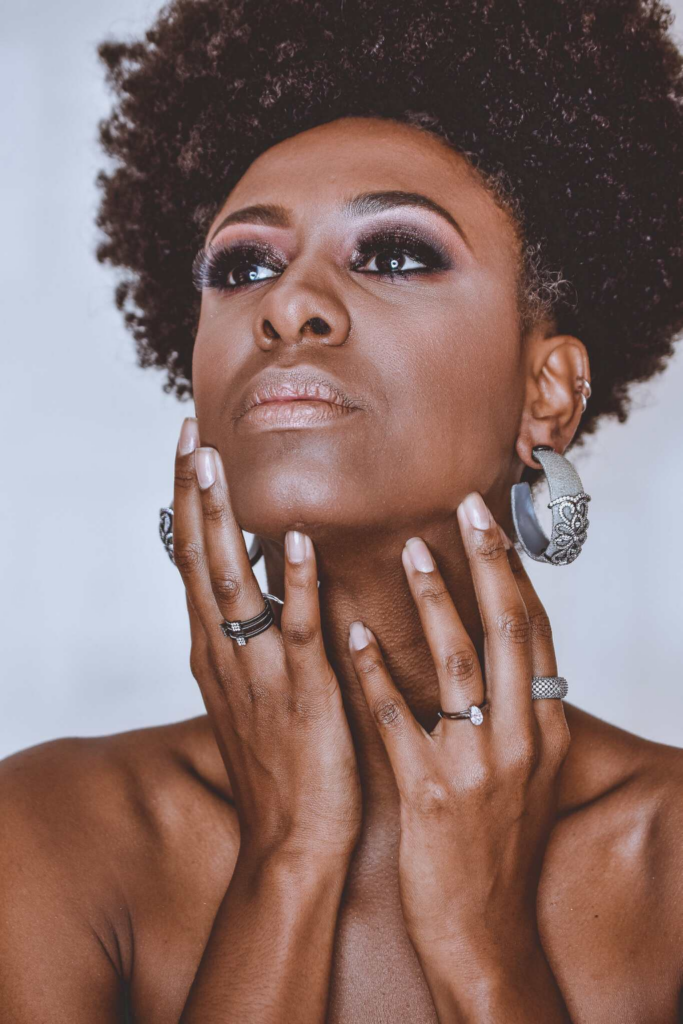 Source: pexels
The ring is never out of fashion, but it has its rise and fall in different phases just like most jewels. The trend now is big and bold rings instead of the usual dainty rings in the past. Increasing the number of rings is also one of the tendencies. To rock the trend does not mean you need to replace all your delicate rings with bigger ones. Stacking similar rings will be boring, so the key is mixing and matching them. Metal rings are common in matching outfits. When you try to mix different metals, you can mix a little silver in the gold mix. Many gold-plated silver pieces are almost indistinguishable from solid gold.
Dated back 5,000 years ago, rings are embedded with love and devotion for a beloved one, but now they also play a central role in decoration. There are a great number of distinctive rings you can try, for example, large signet style rings, soft and curvaceous snake rings, or a trio of bands. You can try rings with various widths and styles harmoniously, such as a wedding band, a cocktail ring, a signet ring, and a solitaire ring, but only if your hands are comfortable and easy to move the knuckles. After all, a ring is an easy way to express your personality and uniqueness. The thing is that rings can match all kinds of outfits, so you don't need to worry about how to match them.
Bracelet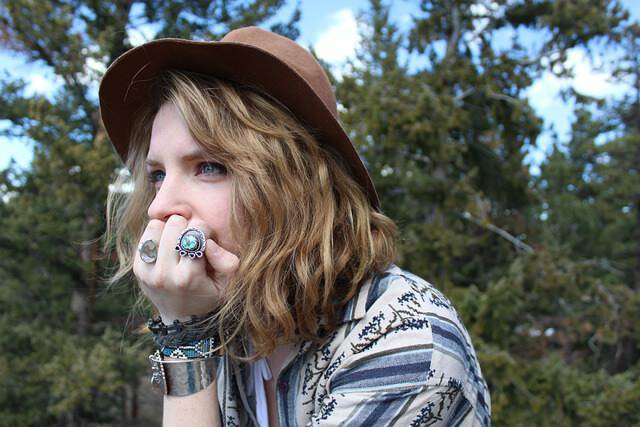 Source: pixabay
Bracelet is a general name for all ornamental jewelry that is adorned on the wrists. Cuff bracelets, link bracelets, and bangles are different. A link bracelet is normally narrow and has clasps to fasten it. A bangle is a rigid closed loop. A cuff bracelet is an open and round bracelet. It usually has a joint which makes it easy to open and shut. In history, cuffs are used as a symbol of status or a talisman of protection. Now, most cuff bracelets are used for decoration. Sometimes they are used in some movies to show specific settings.
Cuffs and bangles are already one of the most popular accessories in 2022 so they are kept and continued into the next season. Therefore, the tendency this winter is to stack multiple cuff bracelets that are big and bold. Furthermore, the number of cuff bracelets is maximized. Different kinds of bracelets, with or without gemstones, thick or thin, are layered and stacked together by fashion designers and stylists. They prefer excessive bracelets to add different layers.
One important thing to notice is that wearing cuff bracelets with gems needs extra attention since gems are easily worn with hard materials. If you opt for a group of bracelets with jewels, they are better protected by bezel settings. In addition, the tip for thick and heavy arm jewelry is to try various materials, colors, and textures so that everyone can have their characteristic looks.
Cuff bracelets can show your attitudes towards life and fashion because they are related to sophistication and good taste. They are suitable for all situations, everyday life, dinner, runway, and red carpet. Stacking up cuff bracelets can match a casual look, a bohemian and free-spirited look, a modern look, a trendsetter look, etc. It is definitely fit for those with a creative open mind to experiment with their own styles.
Conclusion
Jewelry can elevate your outfit to another level, adding a highlight, or icing on the cake. It may not be easy to find the right combination of fashion and function, but it is funny to experiment with and worth the effort to fit you best. Remember to pick the right color and style that match your clothes. What matter most is the comfort and confidence that bring to you.